HoistNet GateWay
Description:
The HoistNet GateWay is a device for receiving up to two load signals from other HoistNet devices and outputting the value in either kilograms or tonnes via two fully isolated sinking or sourcing 4-20mA channels and/or a programmable RS485 serial interface.
Receives signals wirelessly from up to 2 different HoistNet devices up to 200m away.
4-20mA outputs are fully isolated and can be wired up as either sinking or sourcing signals.
Programmable RS485 interface for connecting to any PLCs, 3rd party displays.
Simple to configure wirelessly.
Wide input voltage range.
Australian designed and manufactured.
Australian manufacturer extended hours support available.
PHYSICAL SPECIFICATIONS
The HoistNet Gateway is designed to be installed on a 30mm DIN rail. Dimensions of the unit are provided in the following diagram.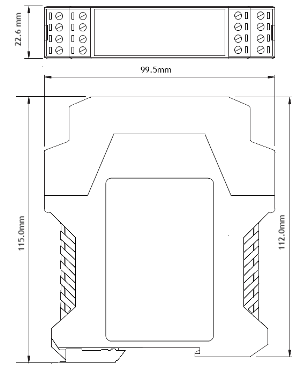 | | |
| --- | --- |
| Length (mm) | 115 |
| Width (mm) | 100 |
| Height (mm) | 23 |
| Weight (kg) | 0.12 |
| Mounting | 30mm DIN rail |
ELECTRICAL SPECIFICATIONS
| Parameter | Description | Min | Typ | Max | Units |
| --- | --- | --- | --- | --- | --- |
| Vin | Supply Voltage | 32 | | 250 | VAC |
| Iin | Supply Current | | | | mA |
| Operating Temperature | -40 | 85# | °C | | |
# Extended operation at maximum temperature will reduce device life.
Technical Documents
Upgrading Firmware

---
Installing USB drivers for the Link-2 modem
When do I need a HoistNet Gateway?
When you want get the load from a HoistNet device into a non-HoistNet device (e.g. a PLC).
Do I need to wire up the HoistNet Gateway?
You only need to supply power to the device. It get's the load signals wirelessly via HoistNet.
How many HoistNet devices can it connect to?
A HoistNet Gateway can accept two HoistNet inputs.
What is the output format?
The HoistNet Gateway can output the load signals as either 4-20mA or RS485 signals.
What is format of the RS485 output?
You can configure the serial format of the RS485 string and the baud rate when you configure the HoistNet Gateway.
I have two loads on separate hoists. Can the HoistNet Gateway output the sum of these?
Yes - this is configured at commissioning.
Are the analog outputs sinking or sourcing?
They can be either - you configure these when you set up the HoistNet Gateway.
What else do I need to get the load into my PLC?
You will need a device to measure the load (e.g. load cell) and a HoistNet device that connects to this load source.
How what is the range of the HoistNet Gateway? How close does it need to be to the load source?
It depends on the conditions. In a metal shed, with lots of obstacles, 200m is usually achievable. Outside, the range is much greater.
I have problems with other wireless devices on my site. Can I still use the HoistNet Gateway?
It depends on what is causing the interference. HoistNet uses long range Bluetooth to communicate between devices.