TrafficLite Multipoint Crane Load Limiter
Description:
Nb, This version of Trafficlite is no longer manufactured. This page is provided for support purposes.

If you have recently purchased a Trafficlite IO expansion unit from us, you will find the product manual in the documents section of the Liftlog DX and Maxout DX product pages.


TrafficLite is a device that takes a crane load input (directly from a load cell or via another device) and then activates up to four set point relays depending on the value of that load.
When is a TrafficLite required?
The primary use of TrafficLite is to drive a Green-Amber-Red traffic light display and set of overload contacts. However, it can be used to drive any other four independent set point relays.
4 load limiting outputs.
Direct replacement for second ABUS LIS driving traffic light displays.
Can be used as a wireless load source for a HiBeam load display.
24-240 VAC Operating voltage range.
Wireless configuration via Bluetooth.
Compatible with OEM crane control products.
Australian designed and manufactured.
Australian manufacturer extended hours support available.
| | |
| --- | --- |
| TFL100 | Strain Gauge input (e.g. load cell) |
| TFL101 | 4-20 mA input (e.g. output of a line driver, used for long cable runs) |
| TFL102 | 0-10V input (e.g. Konecranes ControlPRO) |
| TFL103 | ABUS QLink input ('Q', 'F1' or 'F2' terminal on ABUS LIS) |
| TFL104 | Special inputs |
PHYSICAL SPECIFICATIONS
The TrafficLite is designed to be installed on a 30mm DIN rail. Dimensions of the device are provided in the following diagram.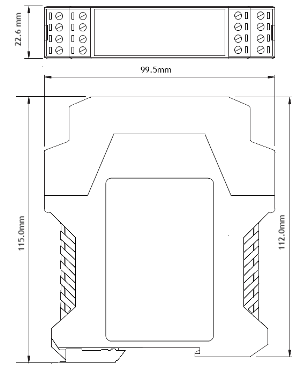 | | |
| --- | --- |
| Length (mm) | 115 |
| Width (mm) | 100 |
| Height (mm) | 23 |
| Weight (kg) | 0.12 |
| Mounting | 30mm DIN rail |
ELECTRICAL SPECIFICATIONS
| Parameter | Description | Min | Typ | Max | Units |
| --- | --- | --- | --- | --- | --- |
| V(in) | Supply Voltage | 32 | | 250 | VAC |
| I(in) | Supply Current | 7 | 8 | 12 | mA |
| L(max) | Maximum voltage on a load sensing pin with respect to device GND | | | 3.3 | V |
| L(fs) | Load pin differential input for full scale reading | 20 | 23 | 25 | mV |
| V(fault) | Max voltage for fault output | | | 250 | VAC |
| I(fault) | Max current sink by fault output | | | 4 | A |
| P(fault) | Max contactor inrush rating at 48V | | | 200 | W |
| | Operating Temperature | -40 | | 85# | °C |
# Extended operation at maximum temperature will reduce device life.
Brochures
Technical Documents
Upgrading Firmware

---
Installing USB drivers for the Link-2 modem
When do I need a TrafficLite?
When you want to do complex load limiting, or you need to replace a faulty Traffic Light display controller (or put in a new one).
What else do I need?
You will need a load signal from somewhere. This is typically a load cell or an output from a crane controller (e.g. Konecranes ControlPRO, ABUS LIS etc). If you don't have either of these, we sell a couple of types of rope clamp load cells that can be easily bolted on.
Can I piggy back off an existing load display?
Yes, definitely. The recommended method for connecting a TrafficLite to an existing load display is to use a 4-20mA output from the display to a 4-20mA configured TrafficLite or to insert a 4-20mA TrafficLite into an existing current loop.
Where this is not an option, it may be possible to piggyback the TrafficLite onto the strain gauge inputs of the load display.
How do I configure a TrafficLite?
TrafficLite can be configured wirelessly using a laptop fitted with a Link-2 long range Bluetooth modem and running our FSU application. We don't recommend using existing Bluetooth modems in your PC as these aren't sufficiently reliable for configuration purposes. The good news is that we supply one free Link-2 with your first order and the latest FSU software is always available for free download from the Liftlog™ webpage. For more details on configuration, refer to the User Manual.
Can I change the gain on my existing TrafficLite?
Yes. When using a strain gauge load cell, TrafficLite can be configured to one of 3 gain settings by moving an internal jumper. Note that you will need to recalibrate the TrafficLite device after changing the gain.
Can I change the type of input on my existing TrafficLite?
Yes. We've developed an application note that contains details on how to do this. It is available from the Documents section of this webpage.
Do I need to calibrate the TrafficLite using test weights?
Almost certainly. The only times when calibration will not be required are when the TrafficLite is being connected an already calibrated Konecranes ControlPro (Model LL102)or ABUS LIS (Model LL103).
You will also need to recalibrate the unit after changing the gain, input type or if you erase the calibration for any reason.